River Series Spa Hot Tubs Whether used indoors or out, the River Series features some of our most popular hot tubs. PDC Spas River Series hot tub spas come with a complete 10 year warranty. The River Series features a long list of premium features typically found in more advanced tubs. These include LED spa lighting, TemperLok™ insulation and stainless steel hot tub jets.
SE Series Spa Hot Tubs - Designed especially for the budget-minded hot tub enthusiast, the SE Series offers a comprehensive selection of affordable hot tubs, with seating options ranging from 4 to 7, in addition to comfort and hydrotherapy features you would expect to find on more advanced models.
Luxury LX Series Spa Hot Tubs For those seeking the highest level of quality, comfort and design, PDC Spas LX Series offers six exquisitely-crafted luxury hot tubs; with seating designs ranging from 3 to 7 users. The LX Series also includes over a dozen premium upgrades and performance features, as well as our industry-leading 35 year structural warranty, to help you get the most from your hot tub experience.
PDC Swim Spas PDC Swim Spas are where innovation and fitness meet! Simply step out your door into a private backyard oasis of warm water action for the quickest, most beneficial exercise experience on your time schedule. Whether you are an athlete in training, a fitness enthusiast, wanting relief from joint pain, or looking for hydrotherapy and a better way of life, adding a PDC Swim Spa to your lifestyle is the answer for you.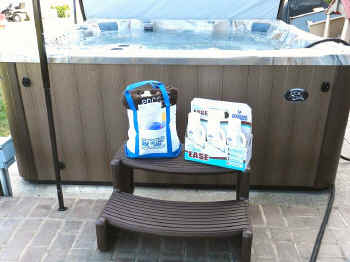 Kirsten B. D. Writes: SATISFIED?!?! WE SURE ARE!!!!! PDC spa & pool are head & shoulders above the rest. VERY informative helpful honest company (Sherry is the best!!) We are THRILLED this company was recommended to us and will highly recommend the same to others!!! Our hot tub is BEAUTIFUL & we are LOVING every minute of it:)