PDC Spa & Pool World
Showroom



Spa Gazebo Shipping Discounts!
Contact Us For Details!
Above Ground Pools - New Models, Supplies and More!
Financing Available!!!
Visa, Master Card, Discover!

PDC Spa & Pool World
701 Bridge St. Lehighton, PA. 18235
Toll Free 1-800-797-7296 - Local 610.377.5637 / Fx: 610.379.9568
Just Minutes From The Mahoning Valley Exit (Rt.209), Northeast Ext. - PA. Turnpike!
Drive A Little Save A Lot!

Save BIG On Display Models!

Store Hours
Mon./Tues./Wed./Fri. 9AM - 5PM
Thur. 9AM - 6PM
Sat. 9AM - 3PM
Closed Sunday

A Short Drive From Anywhere in Eastern PA.!
1 Hr. L.V. / 2 Hrs N.Y.C. / 1.5 hrs Phila. / Wilkes-Scranton
Directions To Our Showroom (Map Quest)

Stop by our amazing showroom where we have many spas on display, the finest saunas, spa enclosures and spa gazebos, the finest above ground pools and a large selection of parts, supplies and accessories for all of your needs. PDC Spa & Pool World has everything you need to make every day a relaxing vacation in the privacy of your own home.

Spas ~ Hot Tubs ~ Saunas ~ Pools ~ Spa Enclosures ~ Parts ~ Supplies ~ Accessories
We carry a variety of above ground pools and liners.

Installation of our above ground pools, spas and saunas are done by our own certified factory trained technicians.

Free computerized water testing is provided to help keep your water sparkling clean.

We have working spas and saunas in our showroom so that you the customer can come in and try them out before buying.
We have been in the business of providing specialized service for our customers for over 30 years. Located at 701 Bridge St. in Lehighton, you will find one of the largest and most unique showrooms in the area featuring Finnleo steam and infrared saunas and displaying many PDC & Saratoga spa models along with a large selection of chemicals, toys and accessories for saunas, spas and pools.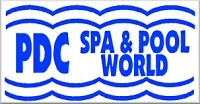 PDC Spa & Pool World
701 Bridge St. Lehighton, PA. 18235
Toll Free 1-800-797-7296 - Local 610.377.5637 - Fax: 610.379.9568

Directions To Our Showroom (Map Quest)

PDC Spa and Pool World Showroom, Spas, Hot Tubs, Whirlpool Tubs, Jacuzzi, Saunas, Steam Saunas, Steam Rooms, Infrared Saunas, Spa Gazebos, Spa Enclosures, Pools, Spa Parts, Pool Parts, Pool Supplies, sauna Supplies, Spa Supplies, Supply, Saratoga Spas, Finnleo Saunas, Spa Repair, Pool Chemicals, Sauna Chemicals, Serving, Brodheadsville, Tannersville, Stroudsburg, Poconos, Hazleton, Lehigh Valley, Allentown, Bethlehem, Easton, Pennsylvania, PA, Fogelsville, Nazareth, Wilkes Barre, Laurys Station, Center Valley, Reading, Pocono Manor, Pocono Summit, Pocono Region, Saylorsburg, Shawnee, Scranton, Monroe County, Pike County, Carbon County, Luzerne County, Lehigh County, 18711, 18034, 18051, 18000, 19608, 570, 610, 215