READ WHAT OUR CUSTOMERS THINK OF US!!!
We appreciate the Professional and Friendly service we receive! Every question asked receives a prompt response! The Service Tech and Sales People Are Very Professional and assets to The PDC Spa Team/Family! We Highly Recommend PDC Spa World to everyone! Buying our new spa from PDC SPA World was A Great Experience!
S & G Johnson


Started dealing with your store about 3 years ago. After traveling to Allentown and having some bad experiences with ________ found out about your store in Lehighton. We were pleased with the service and stock and selections, so we have been going there ever since. It is close and the people are friendly. Thanks.
N. King


I discovered you through my efforts to find a facility that was knowledgeable about the care and treatment of the water in my hot tub. I had been calling many advertisers in the yellow pages only to get the run around about water treatment and maintenance. When I reached your facility I knew that At Last I'd finally found someone who had knowledge, but also courtesy to fill my needs. It is indeed a pleasure to do business with you, as well as recommend you to any and all that I come into contact with. Thanks for being there and having a well trained staff.
T & C Schilling


You saved me from puncturing my pool wall when I couldn't clear up the water! I was so frustrated but you helped to turn the water crystal clear.
C. Dorwood


PDC Spa and Pool World is very customer friendly. They help you find the problem and fix it. I drive farther to get there because of their great service. I recommend them to all my friends.
L. Peeters


We love to deal with your company. You answer all our questions and are always happy to help us. This is our first year with our pool and we have asked you for help on numerous occasions. The staff has been very helpful. The products you carry are great too. Thanks for a great season.
A. Bird


I used to go to ………………. and then I was recommended to come here. I love it here because all the sales associates are friendly and very helpful. I wish I would have found out about you sooner. Great Job!!!
Y. George


They were very kind and knowledgeable when I purchased my pool last year. They made sure everything was taken care of from installation to filling it up and starting the filter. I sent my father here because of your excellent service.
D. Folweiler


Sherry and all the people there are so friendly and helpful. They actual go out of their way to help solve your problem and get the parts you need.
P. Anderson

PDC Spa & Pool World has everything you need to make every day a relaxing vacation in the privacy of your own home. We have been in the business of providing specialized service for our customers for over 30 years.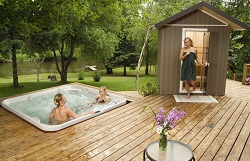 We carry a variety of above ground pools and liners.
Installation of our above ground pools, spas and saunas are done by our own certified factory trained technicians.
Free computerized water testing is provided to help keep your water sparkling clean.
We have working spas and saunas in our showroom so that you the customer can come in and try them out before buying.
Contact us or stop by our amazing showroom where we have many spas on display, the finest saunas, top of the line above ground pools and a large selection of parts, supplies and accessories for all of your needs.

Our knowledgeable and courteous staff will be glad to answer your questions and assist you and remember we are here for you long after you purchase your spa with regional delivery and installation as well as expert factory trained technicians will assure you years of carefree enjoyment.
PDC Spa & Pool World.. Vacation At Home
50 Reasons To Own A Hot Tub Or Spa, PDC Spa Pool World, Spas, Hot Tubs, Whirlpool Tubs, Jacuzzi, Saunas, Steam Saunas, Steam Rooms, Infrared Saunas, Spa Gazebos, Spa Enclosures, Pools, Spa Parts, Pool Parts, Pool Supplies, sauna Supplies, Spa Supplies, Supply, Saratoga Spas, Finnleo Saunas, Spa Repair, Pool Chemicals, Sauna Chemicals, Serving, Brodheadsville, Tannersville, Stroudsburg, Poconos, Hazleton, Lehigh Valley, Allentown, Bethlehem, Easton, Pennsylvania, PA, Fogelsville, Nazareth, Wilkes Barre, Laurys Station, Center Valley, Reading, Pocono Manor, Pocono Summit, Pocono Region, Saylorsburg, Shawnee, Scranton, Monroe County, Pike County, Carbon County, Luzerne County, Lehigh County, 18711, 18034, 18051, 18000, 19608, 570, 610, 215