PDC Spas Hot Tub Accessories & Enhancements


Enhance your hot tub relaxation with one of the many accessories PDC Spas has to offer, making your home into a backyard oasis.

Hot Tub Blue Tooth Audio System

Match your music with your mood to enhance that much needed relaxation experience. SoundStream™ Audio System enables you to wirelessly stream music from any Bluetooth® device. Your entire digital music collection, plus SiriusXM, Pandora internet radio, iTunes, and much more is instantly at your fingertips.

PDC Hot Tubs Marine-Grade Speakers and Subwoofer
All SoundStream™ Audio Systems have been redesigned for an enhanced relaxation experience with two marine grade speakers mounted slightly above the water's surface. With this speaker position and an in-cabinet subwoofer, your favorite tunes float across the massaging waters with unsurpassed clarity, even at the highest volume. With the Allure2™ LED Lighting on all the Luxury Series models, speakers are lit in sync with hot tub lighting. Enjoy SoundStream™ audio during your much deserved downtime for complete relaxation, body and mind. Audio system not available on LifeStyle Series models.

Spa side Control or Free App - Wireless Hot Tub Controls

An easy to use spa side control panel makes sure that wet fingers never need to touch your audio device. You can also download the free app to control your entertainment vibe from any smart phone or tablet.

Convenient, easy operation to complete your relaxation experience.
Hot Tub Lighting
Lights are the ambience of relaxation, so set the mood with our unique hot tub lighting systems. Each of our hot tub lighting systems enhances your spa atmosphere, illuminating your backyard oasis. Simple convenient fingertip control from your digital control center for a totally encompassing evening of relaxation and comfort.
PDC Spas offers many types of hot tub spa lighting.
MotionGlow™ Lighting
Set the warm swirling water aglow with soft color from an underwater LED light.
Choose a slow rotating prism of tones or your favorite color that best matches your nighttime relaxation mood.
Standard on all LifeStyle™ series hot tubs.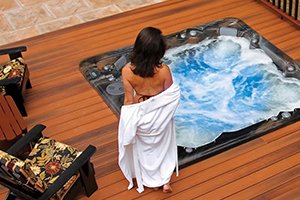 Spectrum™ Lighting - LED Hot Tub Lighting

For the ultimate in hot tub lighting, the newly released Spectrum™ LED lighting feature offers up to a full 91 points of light to warm your evening and enhance that much needed relaxation.
Selected seats, recliners and lounges are aglow with lit hydrotherapy jets from neck to toes. Underwater pin lights and MotionGlow ™ lighting bring a comforting ambiance to the swirling waters.
Four brilliant corner cabinet sconces offer warm lighting for safety and beauty, while lit UltraMassage™ Selectors and air controls offer convenience and ease of operation after the sun goes down.
The Spectrum™ Lighting package includes the Allure2 Lighting features and much more! Wrap yourself in the glow of luxury with this new option available on the Luxury Series models only.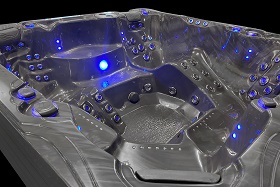 Prism™ Lighting
Underwater LED lighting with MotionGlow™ Lighting and six pin lights plus two lit cascading water spouts.
Standard on all Premium series hot tub models.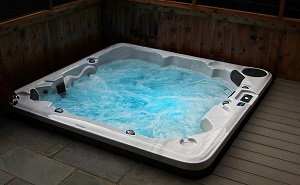 Halo™ Lighting
All Luxury Series hot tub models warm your nighttime relaxation with LED underwater pin lights and three lit cascading waterspouts for a tranquil sound and soothing ambiance.
Standard on all Luxury series hot tubs.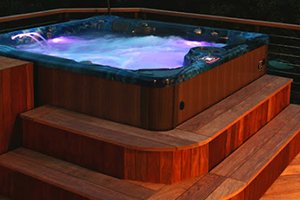 Allure2™ Lighting
The optimum in hot tub lighting, this optional Luxury Series feature adds LED lit cup holders, air controls, and UltraMassage™controls setting the topside aglow with warm color.
Four brilliant LED corner sconces wrap your Luxury spa model in warm light completing your evening relaxation experience.
Optional on all Luxury series hot tubs models.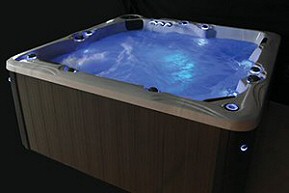 Hot Tub Covers

Energy Saving, Locking Thermal Covers
Virtually eliminate surface heat loss with our PDC covers. Featuring a full length hinge heat seal, 4" sloped foam core and locking straps, these covers keep your hot tub or swim spa energy efficient and economical to own. ASTM approved.

Deluxe Hot Tub Cover
The PDC Premium and LifeStyle Series hot tub models feature our deluxe hot tub cover in PermaWood™ cabinet matching colors, keeping your hot tub operating efficiently and economically. 3 year warranty.
AccuLok™ Custom Hot Tub Cover

Standard feature with Luxury Series, optional with Premium and LifeStyle Series models. Exclusive to PDC Spas, this hot tub cover, AccuLok™, is unique with heat-trapping design and water resistant barrier keeping your cover lightweight and simple to use for years. The insulating foam is heat sealed with a proprietary material that virtually eliminates water vapor absorption. This revolutionary breakthrough in design features a seamless heat shield reducing heat escape from the hinge area. Four locking straps are designed to also keep the heat shield tight to the hot tub cabinet further trapping heat. Choose from PermaWood™ cabinet matching colors
Hot Tub Steps
Handcrafted in Rich Black to compliment our PermaWood™ Rich Black cabinets, the PDC Spas collection of hot tub steps offer safety and good looks to complete your backyard oasis. Relax, knowing our sturdy handcrafted construction will provide years of reliability and convenience to your hot water relaxation.
Hot Tub Steps
Our stylish, open tier design steps offer the convenience you demand for your backyard enjoyment. Select from two styles; four sizes, to best compliment the hot tub design of your choice. All steps are in Rich Black PermaWood™ to compliment the Accenture™ cabinet with Rich Black trim. Pair the two tier design with medium to compact hot tub models, choose from 40"L or 72"L (13.5"H x 19.5"W). The three tier step design compliments those very popular deeper models, choose from 40"L or 72"L (19"H x 29.5"W)
Rock-It Hot Tub Cover Lifter
Cover Lifters for Ease and Convenience
Hot Tub Cover Lifter

Opening and closing of your new hot tub cover is effortless with the black metal Rock-It Cover Lifter.

Simply fold the cover in half and the lifter assists in positioning it neatly behind the cabinet. With ease, replace the cover back onto the hot tub, close flat and secure the latches.

Swim Spas: See Swim Spa Cover Lifters.
Contact us or stop by our amazing spa showroom where we have a great selection of spas on display, the finest saunas, top of the line above ground pools and a large selection of parts, supplies and accessories for al of your needs.
Our knowledgeable and courteous staff will be glad to answer your questions and assist you. Remember, we are here for you long after you purchase your spa, and with regional delivery and installation as well as expert, factory trained technicians, we can assure you years of carefree enjoyment.
PDC Spa & Pool World.. Creating Soothing Possibilities