PDC Spa & Pool World is proud to feature PDC Spas & Saratoga Spas, two of the finest names in the world in spas. Contact us or stop by our amazing spa showroom where we have a great selection of spas on display, the finest saunas, top of the line above ground pools and a large selection of parts, supplies and accessories for all of your needs. PDC Spa & Pool World invites you to ease into the warm and tranquil waters of the finest spas, hot tubs and whirlpool tubs. Vacation everyday...
PDC Spas invites you to slip into the warm soothing waters of a quality hot tub and let the tensions and stress of your daily life melt away. A daily soak in your PDC Spa works magic on aching joints, improving circulation, and offering a better night's sleep. Coming home to a PDC Spa makes even the hardest work-out or the longest traffic jam seem better. For over 50 years PDC has been creating state of the art spas and offer a wide selection of unique spa models to choose from and PDC Spa & Pool World has a great selection on display along with a trained knowledgeable and patient sales staff, PDC Spa & Pool World invites you to stop by and see why we are the areas leader in spas.
PDC Spa & Pool World is proud to feature Saratoga Spas Luxury and Adirondack lines of premium spas. Saratoga Spas are engineered using state of the art technology, engineering and research and delivers with some the finest spas in the world. PDC Spa & Pool World has an excellent selection of Saratoga Spas on display in our amazing showroom.
Our knowledgeable and courteous staff will be glad to answer your questions and assist you. Remember, we are here for you long after you purchase your spa, and with regional delivery and installation as well as expert, factory trained technicians, we can assure you years of carefree enjoyment. .
PDC Spa & Pool World... Creating Soothing Possibilities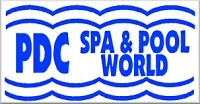 PDC Spa & Pool World
701 Bridge St. Lehighton, PA. 18235
Toll Free 1-800-797-7296 - Local 610.377.5637 - Fax: 610.379.9568
Email: pdcspaworld@gmail.com
* Store Hours
* Directions To Our Showroom (Map Quest)

Spas, Hot Tubs, Whirlpool Tubs, Jacuzzi, Spa Parts, Hot Tub Parts, Hot Tub Supplies, Spa Supply, Spa Supplies, PDC Spas, Saratoga Spas, Spa Supply, Spa Repair, Spa Chemicals, Serving, Brodheadsville, Tannersville, Stroudsburg, Poconos, Hazleton, Lehigh Valley, Allentown, Bethlehem, Easton, Pennsylvania, PA, Fogelsville, Nazareth, Wilkes Barre, Laurys Station, Center Valley, Reading, Pocono Manor, Pocono Summit, Pocono Region, Saylorsburg, Shawnee, Scranton, Monroe County, Pike County, Carbon County, Luzerne County, Lehigh County, 18711, 18034, 18051, 18000, 19608, 570, 610, 215