| | | | | | | |
| --- | --- | --- | --- | --- | --- | --- |
| 800-797-7296 - Local 610-377-5637 | Directions | Hours | | 701 Bridge St. Lehighton, PA. 18235 | | |
SWIM SPAS AT PDC SPA AND POOL WORLD - TOP TEN REVIEWS!
Swim spas combine the comfort of a hot tub's hydrotherapy with the power of exercise.
Enjoy with the whole family for family fun time or have a great time entertaining friends. Jump on in and see what pure bliss feels like!
PDC Spas is the largest swim spa manufacturer of swim spas on the east coast! Feel safe in your decision and decide PDC.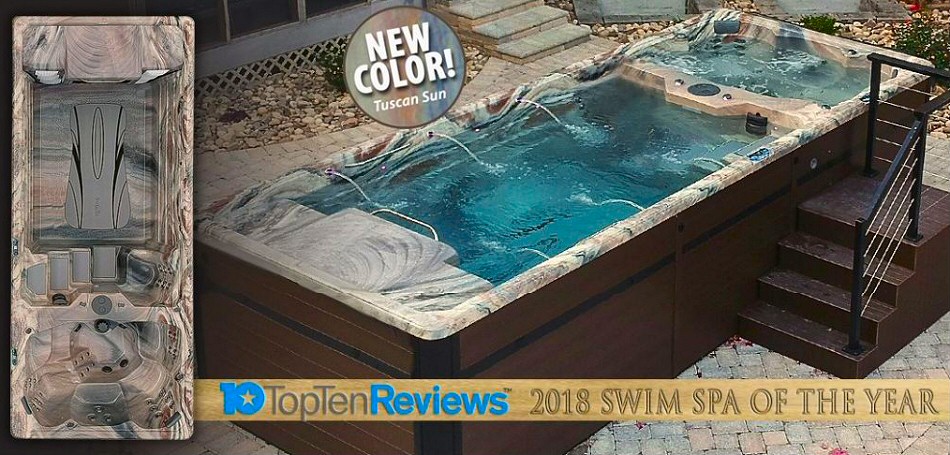 SWIM AND FITNESS SPAS. RENEW, RELAX, REPEAT.
Our collection of swim and fitness spas are the pinnacle of performance and style providing improved wellness and a better quality of life conveniently at home. With a PDC Spas swim or fitness spa just footsteps away, you can achieve your personal health and exercise goals with the added resistance of our TruSwim® dual propulsion hydraulic, superior jetted swim or fitness currents. With a variety of lengths, current styles and exercise features, your spa is customized to fit you and your home. Simply swim, run, walk or perform your favorite aquatic exercise on your own schedule and enjoy your improved lifestyle.
Tru Swim Swim Spas
The real swimming machine with patent pending technology for the widest, smoothest most even swim and fitness current. The TruSwim® unique dual propulsion design guarantees an incomparable aquatic fitness experience with endless possibilities.

TSX15 180" x 92" x 56", 114" open fitness
TSX17 204" x 92" x 56", 124" open fitness
TSX19 227" x 92" x 56", 148" open fitness
TSX219 227" x 92" x 56", swim spa and hot tub
Synergy Swim Spas
The Synergy™ Series feature six high-powered Synergy Pro™ jets adjustable for your customized fitness session. Walk, jog, run, swim, or just relax in the warm swirling waters for a healthier, happier you.

FX15 180" x 92" x 56", 15' long, 36 jets
FX15s 180" x 92" x 56", 15' w/ side step
FX17 204" x 92" x 56", 17' long, 2 seats
FX19 227" x 92" x 56", 19' long, 160" fitness
FX219 227" x 92" x 56", 14' swim spa and hot tub
FX219s 227" x 92" x 56", side step swim spa and hot tub
Vitality Jet Fitness™ Swim Spas

Staying fit and living well is easy with the Vitality™ Series Fitness Spas, pleasing both your wellness goals and budget. Use the resistance of three high-powered Synergy Pro™ jets and massaging therapy jets for the whole body wellness you deserve.

SL12s 144" x 92" x 56", 12' w/ side step
SL12 144" x 92" x 56", 12' long, 24 jets
SL15s 180" x 92" x 56", 130" open fitness
SL15 180" x 92" x 56", Fitness area with 2 hydrotherapy seats
The benefits of exercising in water

Some of the benefits of water exercise include:

Increased muscle strength, posture and balance
Enhanced sense of well being, mood and sleep quality
Greater mobility and flexibility of joints
Improved endurance and fitness
Eases stiff joints and relaxes sore muscles
Reduced pain and fatigue (tiredness)
Strengthen, Tone and Heal
When experiencing the benefits of exercising in a PDC Swim Spa, the natural buoyancy of water supports the body's weight, re-ducing stress on the joints, minimizing pain, and offering one of the most effective workout routines. Water provides 12 times the resistance of air, so as you move, you're really strengthening and building muscle.

If you are new to exercise or can't swim, don't worry. Walking in a swim spa can benefit anyone, including non-swimmers. And if you fall in love with swimming and walking, you can keep going in cooler months - just turn up the heat on your PDC Swim Spa and stay fit year-round!
Family Fun Time - Children and adults alike will play for hours, improving swim skills, mastering water games and burning energy. Kids will learn how to "ride the wave" in the adjustable water current., while parents and grandparents find peace of mind knowing they have a private, safe place to teach the little ones how to swim and be water safe.

Stay On Your Game - The main advantage of exercising in water is that it offers resistance in all directions, compared to land exercises where you work only against gravity. Exercising in a swim spa increases aerobic endurance, builds greater flexibility and increases muscle tone. With a PDC Swim Spa, your work-out routine is easily programmed for a custom fitness session according to the length and re-sistance that best suits your goals.
Feel Better, Sleep Better.
Water is an excellent base for exercise, providing an anti-stress environment for movement, using the water's resistance to build muscle strength and flexibility. The warmer water of the swim spa induces vasodilation, which draws blood into the target tissues. The increased blood flow delivers oxygen and nutrients to the tissues while removing cell wastes. This helps promote faster healing of injured tissues. The warmth also decreases muscle spasm, relaxes tense muscles, relieves pain, and reduces swelling. This promotes a more relaxed mood where you will fall asleep faster and stay asleep longer.

Benefit From a Healthier Lifestyle
It is well known that exercising in water is far more beneficial than your standard exercises. Swimming is the second most popular sports activity and a great way to get regular aerobic physical exercise. Swimmers have about half the risk of death compared to inactive people. Enjoy exercising longer in water with less joint pain or muscle pain with less effort.

Year-Round Enjoyment and Relaxation
A massaging effect is created when your muscles are surrounded by water. Add the water's warmth and our powerful jet action for a soothing relaxing experience from neck to toes in any one of the PDC Swim Spa models. Aquatic exercise is a high calorie burning workout aiding in weight control, while renewing energy levels and releasing stress and tension. Sit back and melt into the warm swirling water, surround yourself in the soothing glow of soft LED lighting and enjoy the starry night like never before. And the best part, your PDC Swim Spa has been designed to perform in any season! Your home oasis is yours, 365 days a year.
Exercise Your Way With A PDC Swim Spa - There are no limits to the exercises that can be performed in a swim spa. Swimming is the obvious exercise but don't put limits on yourself. Just a few options include: weight lifting, resistance bands, walking, running, a treadmill and rowing; all increasing muscle tone in a safe stress free environment.
Swim Spa Benefits Include:
Arthritis Relief
Reduce Tension and Stress
Strength and Mobility

PDC Swim Spas are where innovation and fitness meet! Simply step out your door into a private backyard oasis of warm water action for the quickest, most beneficial exercise experience that meets your personal time schedule.

Whether you are an athlete in training, a fitness enthusiast, wanting relief from joint pain, or looking for hydrotherapy and a better way of life, adding a PDC Swim Spa to your lifestyle is the answer for you.
PDC Swim Spas and Fitness Spas are where innovation and fitness meet for a new approach to a healthier, happier lifestyle.
Delivering a flawless performance of patent pending design and customer driven features, these USA crafted units will provide decades of enjoyment and wellness. Whether you are an athlete in training, Fitness enthusiast, seeking joint pain relief or relaxation and a better approach to life, there is a model for you. Take advantage of our $2500 Savings Offer and begin your path to convenient home fitness and relaxation.
PDC Spa and Pool World is proud to feature PDC Swimming Spas, Spas, hot tubs and whirlpool tubs.
Contact us or stop by, PDC Spa & Pool World invites you to ease into the warm and tranquil waters of the finest spas, hot tubs and whirlpool tubs. Vacation at home everyday...
PDC Spa & Pool World Inc. - 701 Bridge St. Lehighton, PA. 18235 - Toll Free 1-800-797-7296 - Local 610.377.5637
Swim Spas Lehigh Valley Poconos Pennsylvania At PDC SPA And POOL WORLD
Swim Spa Costs, Reviews, Prices

Swim Spas Lehigh Valley Poconos Pennsylvania At PDC SPA And POOL WORLD